Contributing to CO2 Reductions in Society as a Whole Through an Electrical Power Business that Utilizes the Networks Only Available to Trading Companies
Global Material Division
Chemicals and Energy Group Fuel Team
Yuya Nakazato / Kodai Mori / Shunsuke Fukuchi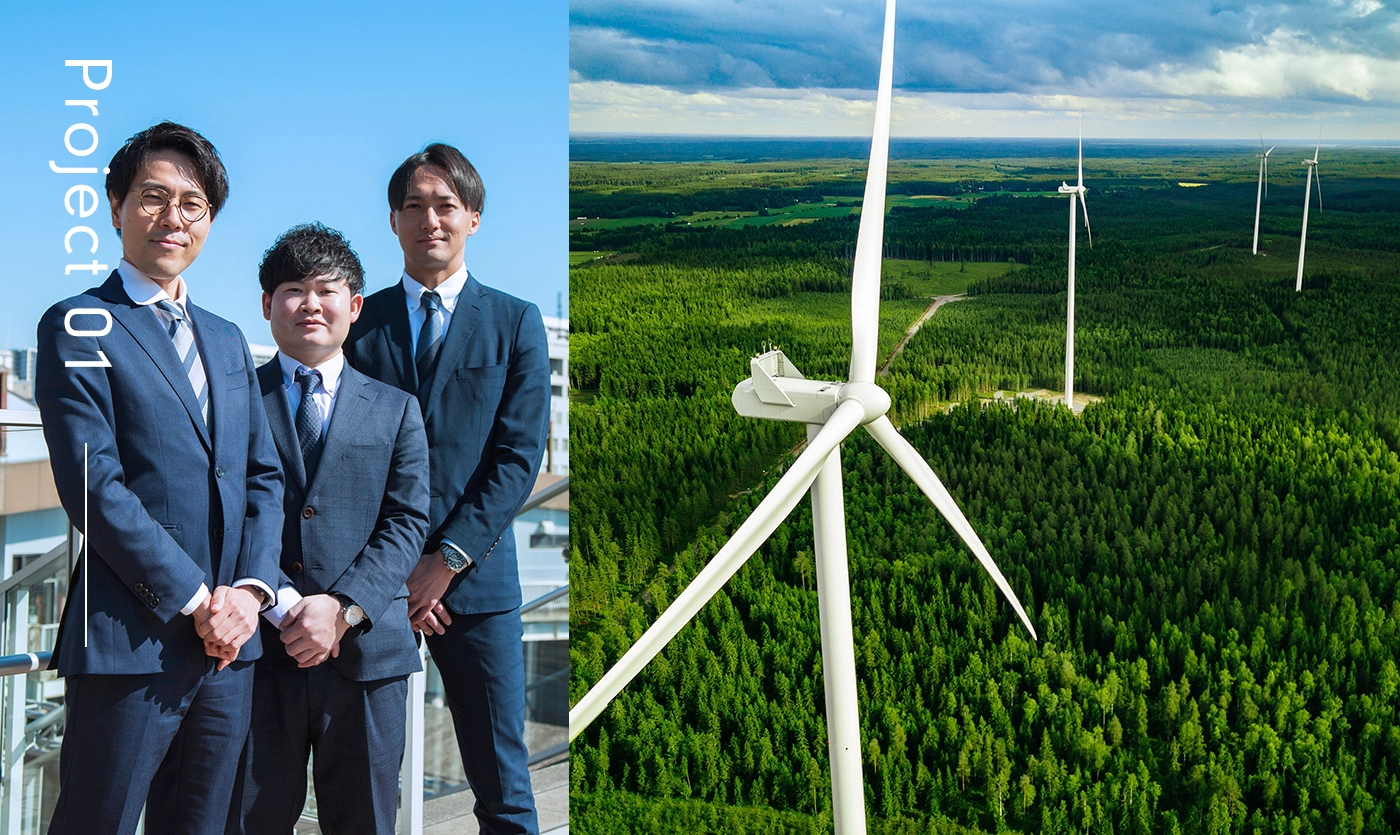 Taking advantage of economies of scale to supply affordable electricity to dealers, parts manufacturers, and logistics companies
The Fuel Team in the Global Material Division's Chemicals and Energy Group is engaged in the retail electric power business for businesses, centered around companies related to Nissan Automotive. We carry out everything, from power procurement to creating electrical power plans, negotiations on the content of quotes, concluding contracts, billing fees, and collecting payments.
This business began in 2010, when Nissan Automotive began selling retail electrical power to various offices, plants, and dormitories, etc. After that, in 2015, Nissan Trading (NITCO) took over the business and expanded the sales destinations to dealers in each region and to plants for automobile-related parts. Currently, approx. 80% of our customers are companies related to or involved with Nissan Automotive, or, more specifically, about 1,000 dealers. The remaining 20% of our customers are companies that aren't related to Nissan Automotive, such as parts suppliers and logistics companies that transport parts. (Mori)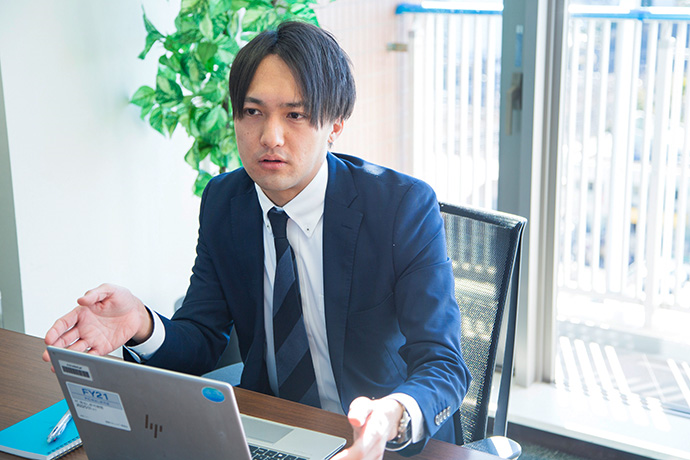 NITCO's electrical power business has two schemes. The first is that we procure and supply electrical power from the electrical power market and from the electric power companies. We are also engaged in activities to introduce electric power services that are provided by the approx. 700 retail electric power companies nationwide.
For either of them, the greatest merit of doing them through NITCO is that we can provide affordable electricity by taking advantage of the economies of scale of the Nissan Automotive economic sphere and its many related companies, aggregate the users, negotiate with supplies, and provide affordable electrical power. Through NITCO's introduction, our supplies can acquire large numbers of customers without the burden and cost of sales activities. Electrical power users, the customers, also benefit because they can obtain cheap, safe, and environmentally friendly electrical power without having to negotiate with the numerous suppliers. (Nakazato)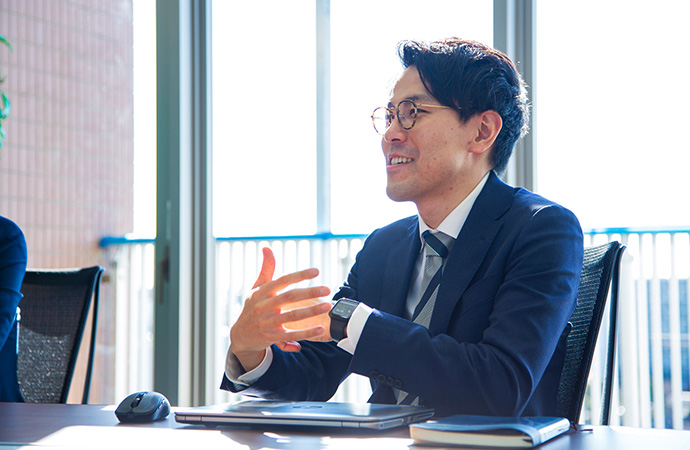 Through a trading company's information and networks, providing optimal services that meet customers' needs
NITCO's strength is the breadth of its network as a trading company. Therefore, we can work closely with our customers on a daily basis to catch up with demand from an early stage. Additionally, as a trading company, we regularly hold periodic meetings with a variety of suppliers and share information. Based on that up-to-date information, we negotiate with our supplies to provide more suitable electrical power services to our customers. Because we are not a manufacturer, it can be said that one of NITCO's characteristics is that we can selectively choose from amongst the products offered by our multiple suppliers, enabling us to find and deliver a solution that meets the needs of our customers. (Mori)
When I'm talking business with customers, they will often ask me "What about this electric power company?" Electric power products have complicated structures and a wide range of plans, so everyone is always extremely worried about which company or plan they should choose. Ultimately it tends to be decided by price, but, in the case of business use, it is also important to address situations when problems might arise, such as power outages. Therefore, the Fuel Team is always conscious of carefully and thoroughly answer such customer questions one by one and removing any concerns that they might have. As a result, I'm really happy when customers say "There won't be any problems if we let NITCO handle the electrical power arrangements." (Nakazato)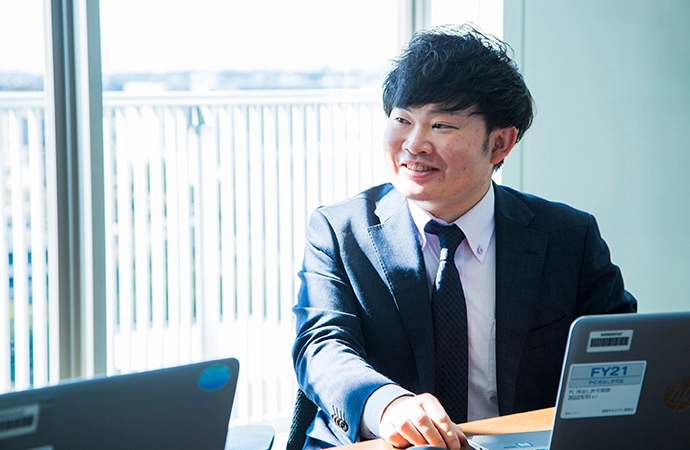 Electrical power is a product that cannot be seen with your eyes, and, when our customers take out a contract with us, it makes me realize the high degree of trust that they have in NITCO. Maybe they are feeling the added value that we provide through our thorough pursuit of safety and after-sales follow-up, etc.? I feel that the value of these trust relationships and of these soft aspects of the business are very important. (Fukuchi)

Promoting environmentally friendly power supply projects for the next generation
Carbon neutrality is a major trend in the electrical power industry now, and, with Japanese society as a whole aiming to reduce CO2, attention has been focused on environmentally friendly electrical power projects. Reducing CO2 in business activities is also now a social responsibility for companies. Electrical power is an area where it is easy to engage in activities that contribute reducing CO2 simply by reviewing services and the content they supply. NITCO is also increasing the number of environmentally friendly options on offer and making proposals to customers for contributing to CO2 reductions via their electrical power usage. (Mori)
Currently, in collaboration with Nissan Motor, we are also working on a project for a new business to sell environmentally friendly electrical power products to employees. We are creating this business from scratch, such as creating the commercial distribution and schemes, creating the products, coordinating with stakeholders, promoting sales, and confirming legal matters. Designing the schemes and doing promotion for their realization requires the involvement of a wide range of related companies, and the overall handling is complicated. However, for this power business with a view to the next generation there is a wide range of involvement for the individuals who are in charge, so even though I feel the heavy responsibility, I also feel that it is very rewarding and motivating. (Fukuchi)
Contributing to society's overall carbon neutrality through environmentally friendly products for the general public
We are also contributing to carbon neutrality through our electrical power business. Electrical power involves all sorts of products, services, individuals, and companies, and their efforts have a great impact on society as a whole. At the same time, laws and regulations, market prices for electrical power, and the content of these services are changing at a tremendously fast speed. By constantly updating such knowledge and working with a sense of speed, we want to develop high-value-added electrical power-related services as soon as possible. (Nakazato)
Presently, a large amount of electrical power is used in all vehicle-related activities, from vehicle production to vehicle disposal. As the trading company for the Nissan Group, NITCO is involved with the supply of parts and fuel, and also has a department that closely works with the parts departments and with the plants at Nissan Automotive. By further utilizing such networks with various logistics companies and by supplying electric power with a high environmental value to a wide range of companies and people, we hope to contribute to the realization of a sustainable society. (Mori)

Related Business Divisions
For Nissan Motor and for the domestic and overseas plants and parts manufacturers of Alliance Group members Mitsubishi Motors and Renault, Nissan Trading contributes to improving the competitiveness of the Alliance Group and to achieving carbon neutrality through information management, environment-related businesses like material recycling and electricity sales, and through supply of automotive materials like steel products, raw materials, non-ferrous metals, and chemicals.