Supporting to New Vehicle Project by Building Commercial & Logistics Route Globally
Global Automotive Components Division
Hideaki Ogawa / Shiomi Furukawa
Proposing transportation routes and packaging that are appropriate for a part's characteristics, and then proposing the most efficient transport mode
Automotive Components Division headquarters was in charge of autoparts from trial production to mass production start-up, for new electric vehicle ''Nissan Ariya''. By positioning ourselves between Nissan, our end user, and parts suppliers around the world, by building distribution and logistics, and by realizing just-in-time supply to our customers, we are contributing to the launch of new vehicles without delay. (Furukawa)
Nissan has put electrification and intelligent vehicles at the core of its management strategy, and Nissan Trading (NITCO) supports this strategy by aligning with suppliers which produce EV・ advanced technology parts, and also building commercial & logistics scheme. Recently, together with the spread of electric vehicles and autonomous driving technologies, there has been increased handling of advanced parts such as drive batters and electronics parts. Amidst this, we propose the most suitable transport route and packaging for the parts, we propose the most efficient transportation modes that make full use of land, air, and sea, and we provide our customers with the required amount of parts when they need them. (Ogawa)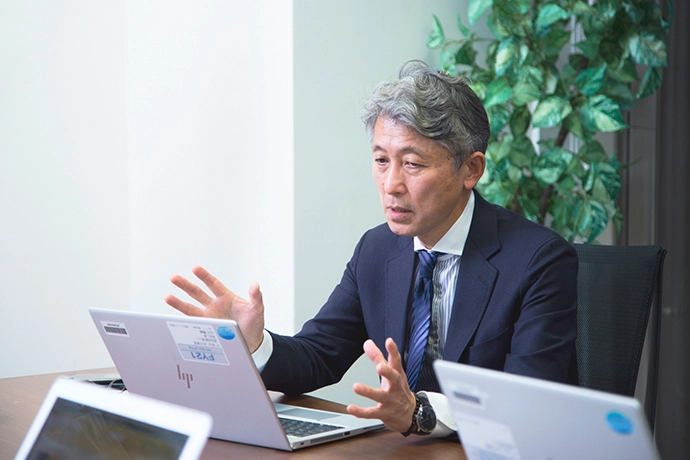 This requires a great deal of care, especially when transporting and storing advanced electronics parts. For example, batteries are dangerous parts and have detailed handling requirements, such as temperature control during transport, storage in an explosion-proof warehouse, and safety control. As a trading company, NITCO not only moves goods, but also addresses all supply-chain related issues, from ensuring the quality of parts to ensuring supply capacity. (Furukawa)
Nissan's flagship EV, the "Nissan Ariya," is Nissan's global strategic vehicle, and in the launch project for the Nissan Ariya it was necessary to import and deliver 800 parts that are used for mass production. We supported the stable production of the Nissan Ariya by designing transportation packaging according to Nissan and the characteristics of each part, and then built an ordering scheme according to production. This was one of the largest Nissan projects to date, and not only was it a large-scale project, but it also involved a large number of new suppliers. (Ogawa)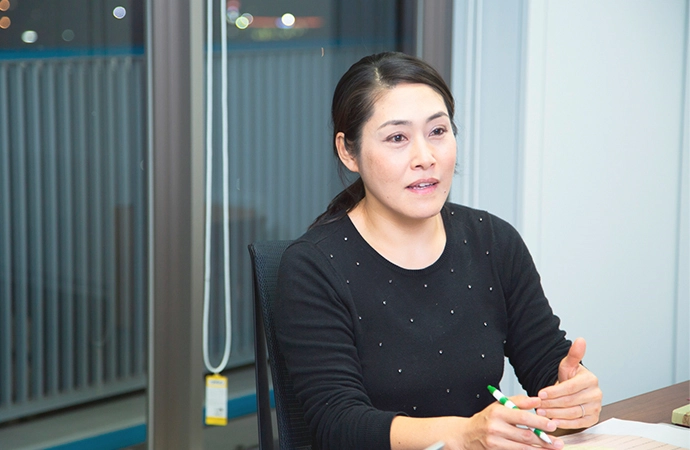 In order to solve problems that occur one after another and to supply appropriate-quality parts just-in-time
The mission given to NITCO is to build commercial & logistics route for the parts which are produced by suppliers globally in EU, US, China, Thailand, South Korea, and Vietnam, etc, and then deliver those parts to Nissan Tochigi Plant, which produces ''Nissan Ariya''. Furthermore, the parts imported from overseas are stored in a number of NITCO-managed warehouses in Utsunomiya, in the Nissan Honmoku base, and around the Tochigi Plant, and then, according to daily orders from Nissan, the parts are supplied via just-in-time to the Tochigi Plant and to suppliers. We have created supply routes for that purpose, and we have built a system that enables suppliers to purchase parts from anywhere in the world and feel as if they were being procured here in Japan. (Furukawa)
To begin with, it is necessary to procure prototype parts that meet customers' specifications and to design packaging that can withstand international transportation. For advanced electronic components, it is necessary to properly manage the software design changes. Detailed specifications and quality control like this were required until just before the start of mass production. (Ogawa)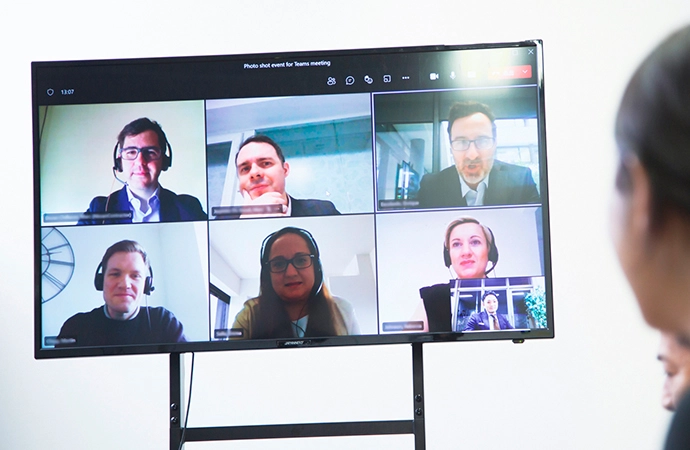 Team collaboration with the Components Division is also important. Together with the quality control team, one of our duties is to conduct quality control so that we are supplying parts that are as requested by our customers. When a supplier comes out with a new part, we check its documentation to guarantee quality. Nissan's quality standards are high, and the design of parts frequently changes. It is normal to repeatedly make corrections until just before delivery, when the final form for the part is arrived at, and, in some cases, the specifications for a part are changed after the part has been imported, and we may ask contractors to make changes or corrections in a hurry.
The logistics engineering team are experts in packaging design, and, in cooperation with them, one of our important tasks is to check, based on the packing information from suppliers, whether or not import is possible. If it is necessary to correct the packaging, then we will request the correction and transport the items as best we can in terms of cost and quality. Even if we take all possible measures, in some instances it is discovered after arrival in Japan that the parts are scratched or dusty, and in that case we may not be able to deliver the products. Or, sometimes there is a hole in the container's ceiling and the parts become wet. Unexpected things always happen in the trading business, and it is rare for things to proceed without some sort of incident (Furukawa).

A project that was achieved by overcoming a variety of difficulties amidst COVID-19
The Nissan Ariya launch project was severely affected by COVID-19, which caused delays in maritime shipping, semiconductor shortages, and had a major impact on supply chains. Recently, heavy rains in Malaysia have disrupted roads, which has made it impossible to ship parts from suppliers. We were planning to assemble the parts in China, but airport staff in Shanghai became infected with COVID-19, so the airport was not available, and the schedule was significantly delayed.(Ogawa)
Each vehicle uses 20,000 to 30,000 parts, and, if even one of those parts is missing, then the vehicle cannot be manufactured. Therefore, we have to ask how many parts, and with which specifications, can be procured and by when? We have to plan well in advance and always keep track of the progress. Sometimes we visit sites directly and have close discussions with our suppliers. However, this time we were unable to do that because of the impacts of COVID-19. Even though we made full use of phone calls, emails, and online meetings, we still had a hard time closely communicating with local suppliers, who also had a time difference with Japan. (Furukawa)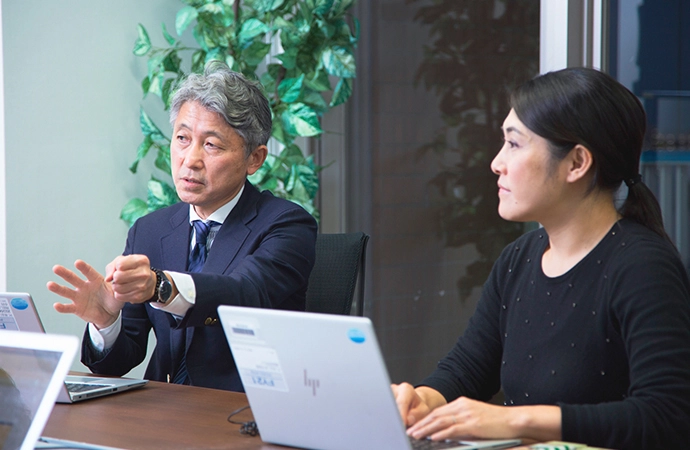 Contributing to the realization of a clean and safe society by supporting the production of electric vehicles
When launching a new vehicle, a variety of issues will arise. In this project, we had regular meetings with the production control department at Nissan's headquarters and with the people at Nissan's Tochigi Plant, and together we all worked to solve a variety of problems. As a result, we are really happy that the Nissan Ariya was successfully launched in December, and the employees at the plant also thanked NITCO for being able to supply the parts without hindering the start of mass production. (Ogawa)
There were many difficulties until building commercial & logistics route in new vehicle launching, but it deeply moves me to think about so many people enjoying a safe and comfortable ride in a car that is manufactured from the parts that we supplied. However, production on the Nissan Ariya has only just started, and it will be necessary for us to continue supplying parts as production volume increases. Going forward, we will also launch projects for the production of export vehicles for Europe and the US, and in order to do so we are currently starting negotiation and preparation with suppliers around the world for the project (as of January 2022). We will continue supporting to the realization of a clean and safe society by supporting the production of electric vehicles via stable supply chain management. (Furukawa)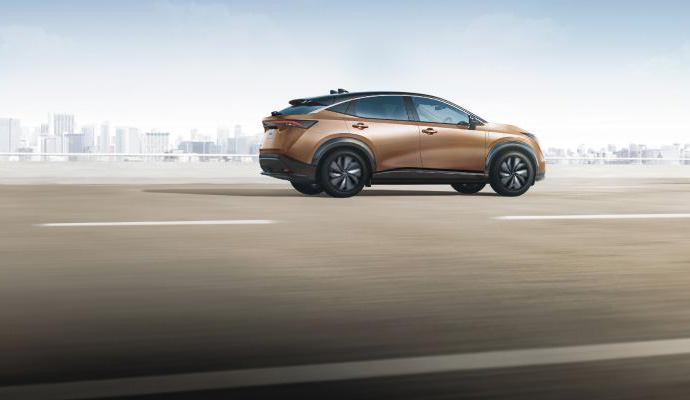 Related Business Divisions
Utilizing Nissan Trading's global trading and logistics know-how, we supply a wide range of products, from prototype to mass production to repair parts, to customers in the Nissan Group and beyond.