Delivering Equipment from Japanese Manufacturers to Renault's First HEV/PHEV Motor Production Line
Global Machinery Division
Plant Equipment No. 2 Group
Koji Okuno / Masanori Kawada (stationed in France)
#Environment

#CarbonNeutral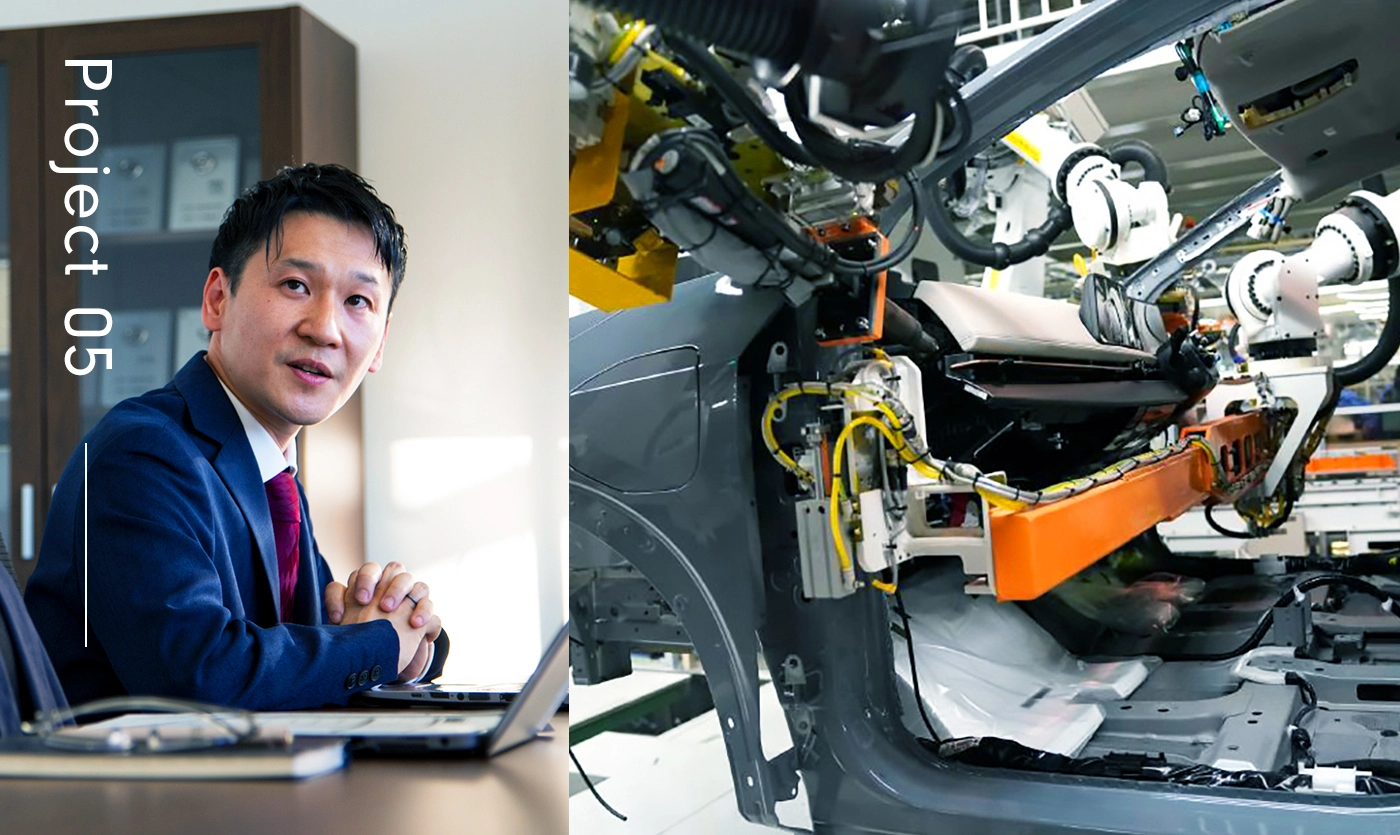 A European market where vehicle electrification is progressing at a rapid pace to achieve carbon neutrality
In the EU, capital investments related to the vehicle electrification are intensifying in order to strengthen emissions regulations and to achieve carbon neutrality. In response to this trends, NITCO has delivered the HEV motor assembly line of a Japanese manufacturer to Renault's Cléon Plant in France. This is Renault's first equipment for a HEV/PHEV motor production line, and we are handling everything from installation to after-sales support.
This project was a large project and spanned a long period of time, from 2019 to 2021. I have been stationed in France since 2016, and have been collecting information in advance, conducting sales activities for taking orders, participating in bidding, negotiating prices, and discussing specifications, etc. After receiving the order for the project, NITCO members in Japan played a central role in the project's management such as for progress management, shipping, transportation, and installation. (Kawada)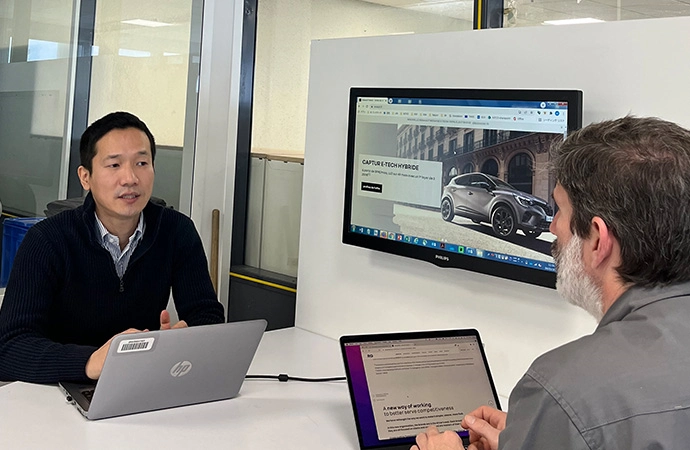 Renault has been a driving force in the electric vehicle market in Europe, and in 2012 pioneered the sales of electric vehicles ahead of other companies with the "ZOE" electric vehicle. In addition to this, Renault decided to also develop a new hybrid vehicle in order to provide users with a variety of choices. In 2020, EV/HEV/PHEV sales in the European market exceeded 3 million units, which was an increase of 70% from the previous year. Renault also increased its sales to 115,000 units, more than double the previous year's level. Going forward, Renault brand's goal is to have their overall lineup be 65% electric by 2025 and 90% electric by 2030. (Okuno)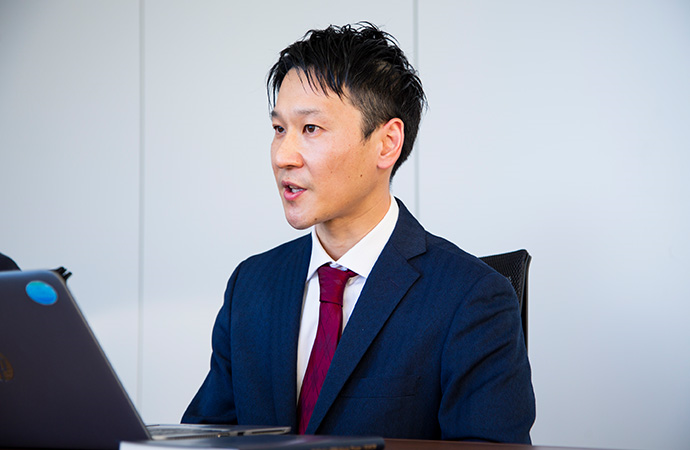 Bridging the differences between Renault Group and Japanese manufacturers, and working to build relationships of trust
This time, 27 equipment manufacturers, including cooperating companies, were involved in the delivery. The Japanese manufacturer also did not have a history of sales to Renault. Renault is in the Alliance with Nissan, and NITCO is familiar with Renault's specifications and standards, so we took on the role of coordination. After that, we considered the concept and layout of the equipment with the Japanese manufacturers and then proposed it to Renault. (Kawada)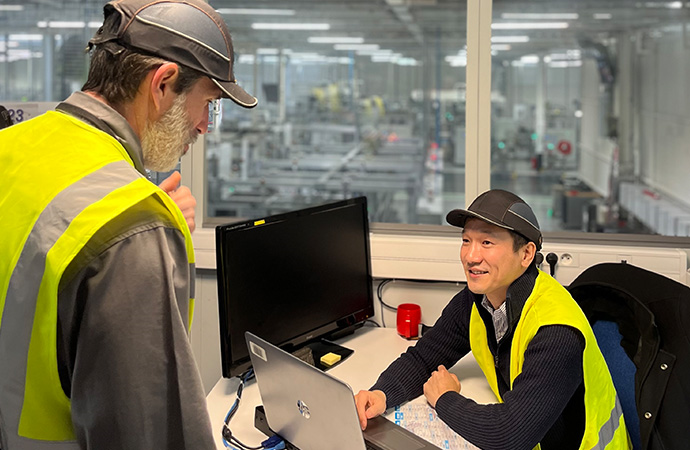 Renault and Japanese equipment manufacturers have different engineering cultures and ways of thinking, and different ways of doing things. NITCO has worked as facilitator, as a link between the two parties to build a relationship of trust. We have found compromises, particularly in the area of cost effectiveness, and have continued to make proposals and negotiate with both parties. Regarding post-commissioning support, which was a concern for the Japanese OEM, it was decided to find an engineering company that could handle this locally, and the support was then provided by NITCO.
However, for French automakers, it can be sometimes more advantageous to introduce equipment from EU manufacturers, rather than Japanese ones, who are located far away. For NITCO, the mission was to show the merits of Japanese manufacturers. All aspects of the proposal were considered, such as quality, transportation, technology, and cost, and the Japanese manufacturer was very impressed when Renault accepted NITCO's proposal.(Okuno)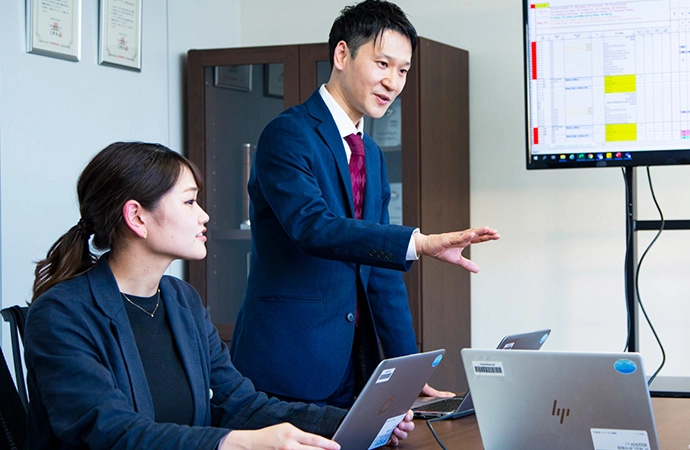 The COVID-19 pandemic struck during on-site installation, people made emergency trips home, and it was difficult to travel again
Via the various Japanese manufacturers, we confirmed the progress of the equipment manufacturing and shared the information. We also assisted when representatives from Renault came to Japan for an inspection. After the equipment was completed, we made a transportation plan according to the schedule for the entire project, coordinated the schedule with the customer, arranged the transportation, and created weekly transportation status reports. We were also able to reduce shipping costs by 15% by negotiating the freight rates directly with the shipping company. As mentioned above, NITCO's role covers all of the small details.
I myself traveled to France to arrange the installation. However, the COVID-19 pandemic happened in the middle of the work, and the factory's closure was suddenly announced. I had to hurry to interrupt the work and take the supervisors from the equipment manufacturer back to Japan. But, in that situation, there was the possibility that we would not be able to leave France, or that the Japanese side would deny us entry. For that reason, I made flight arrangements, etc. for the 20 supervisors to go back to Japan, and they were able to return. (Okuno)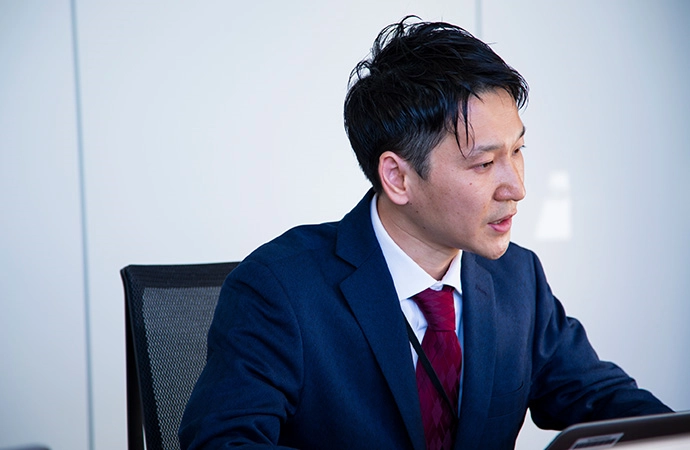 The true power of Japanese manufacturers and NITCO's significance as a trading company are recognized in the EU
At that time I was able to safely return from France with the supervisors, but Renault's production plans were in a situation where they could not be postponed, so it was necessary to once again dispatch the supervisors. However, in addition to the immigration regulations in France, the regulations in Japanese were also changed In cooperation with staff that were stationed in France we gathered information on a daily basis, managed to obtain the necessary documents for entering France, and completed the procedures. Even amidst such circumstances, one of our major roles was to safely dispatch the supervisors and restart the installation without delay. (Okuno)
Thanks to the tremendous efforts of everyone who was involved, the introduction of the line was completed without any problems, and, at Renault's ceremony to commemorate the start of production, NITCO's contribution was commended. Beyond that award, I was happy that European automobile manufacturers are recognizing the true power and value of Japanese equipment manufacturers. (Kawada)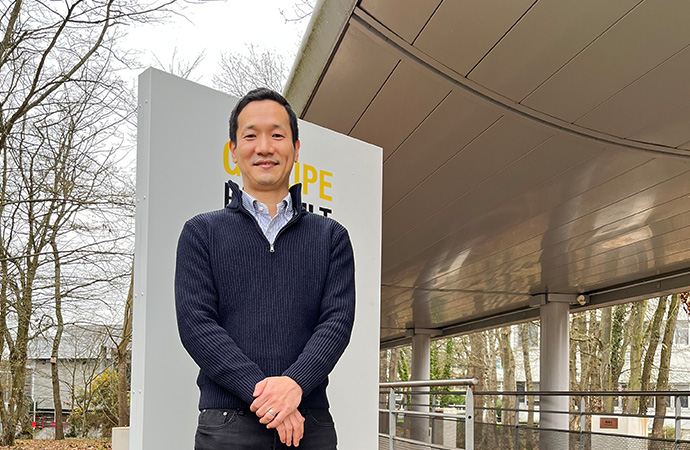 As you may know, there are no trading companies in Europe. Therefore, it has been difficult for Europe to understand the role and significance of a company like NITCO. However, with the success of this project, I think that the French people have understood the value of trading companies and NITCO's significance and usefulness. As evidence of that, since this project there has been an increase in the number of requests and consultations with us, and we hope to connect this achievement and assessment from a customer into future projects.
Taking advantage of what we have learned in this project, through the automobile business NITCO will continue to contribute to reducing the global environmental burden and to achieving carbon neutrality. (Okuno)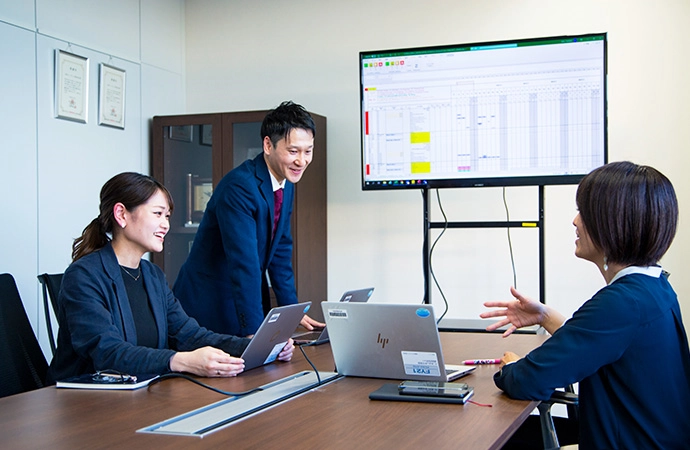 Related Business Divisions
Nissan Trading provides value throughout our customers' Monozukuri lifecycle via the products and services that we handle, such as automobile-related manufacturing equipment, equipment transportation, and machine maintenance parts.