Response to the international logistics disruption caused by COVID-19 and what we have seen from it
Tomoko Tanaka/Akifusa Yoshida
SCM Reform Team, Planning and Administration Group
Global Automotive Components Division
#Problem-solvingCapabilities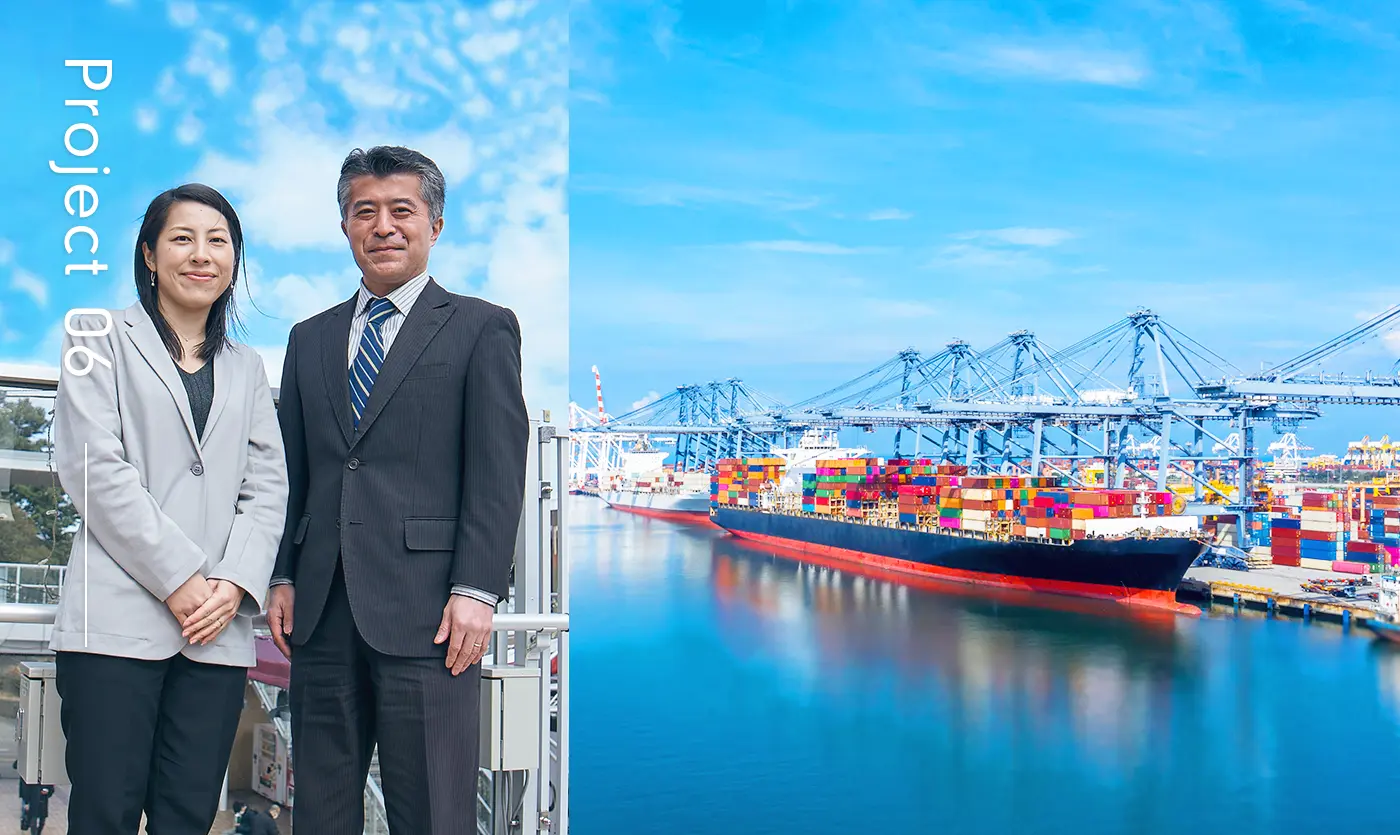 Achieving stable supply of components amid global supply chain disruption
Yoshida : Nissan Trading (NITCO) imports and exports components, materials, and equipment used in the manufacture of automobiles at Nissan Motor Corporation on a daily basis. The mission of the SCM Reform Team (SCM stands for supply chain management) in the Planning and Management Group of the Global Automotive Components Division, to which we belong, is to plan and provide logistics infrastructure to facilitate smooth trade operations. In order to meet the demands of domestic and overseas customers, we respond to inquiries and requests from related departments and teams within the company on a daily basis, and coordinate with over 20 shipping companies around the world.
Tanaka : It was around the autumn of 2020 that such operations came to a standstill. There was a surge in the number of inquiries and support requests from internal personnel members, such as "We are having trouble because we cannot obtain container space," and "The capacity of the shipping company we are using has reached its limit, so we need an introduction to another shipping company." The cause was the disruption in the global supply chain due to COVID-19.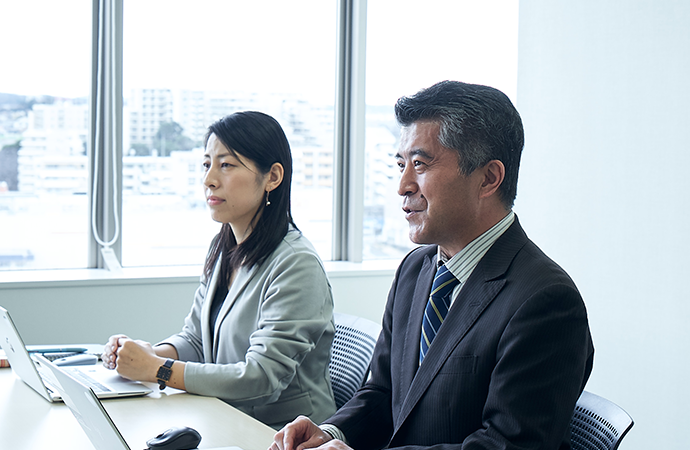 There were diverse factors involved in this. First, the number of containers was decreasing as container plant operating rates dropped. There was also a shortage of workers at the ports, which made it impossible to unload cargo into the ports. At U.S. ports in locations such as Los Angeles, there were many cases of so-called "offshore waiting," in which over 100 ships could not enter the port and were stuck offshore. Furthermore, there was a shortage of "chassis" for transporting containers inland. Container transport became increasingly difficult. As a result of these factors, it took one to two months longer than usual for exported components and materials to reach North America and Europe from Asian countries, including Japan. The supply chain at the time was in chaos due to the lack of containers and container space.
In addition to this situation, cargo volumes from Asia to North America were increasing rapidly because of demand as more people stayed at home due to COVID-19. As a result, global shipping capacity was in unprecedented short supply. Shippers were unable to secure container space due to chronic shipping delays, and struggling for container space was beginning to occur.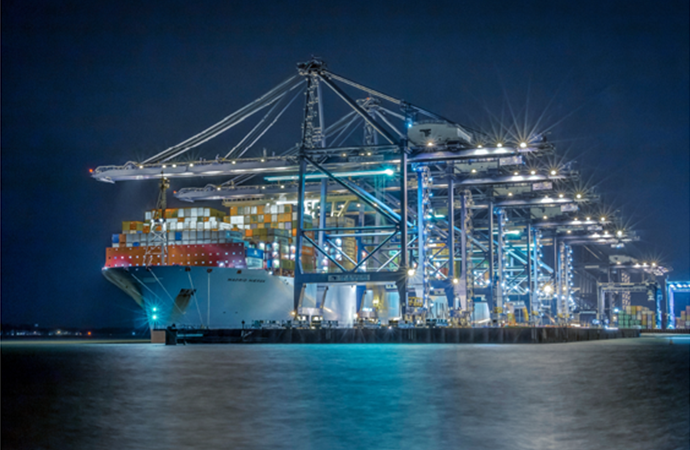 A specially appointed "BCP Task Force Team" was established, and the Nissan Group came together to overcome the difficult situation
Tanaka : Like us, Nissan Motor Corporation was having difficulties due to this disruption in the global supply chain. Nissan imports and exports a large amount of components through NITCO and other channels. There was concern that if this situation continued, the lines at Nissan's global factories might come to a halt and car production would stop.
In July 2021, the Nissan SCM Division launched a "BCP Task Force Team" (BCP means business continuity plan) in order for the Nissan Group to come together to overcome this difficult situation. The Nissan Motor Corporation SCM Division gathers information and controls the transportation operations that had been carried out individually by Nissan Group companies, and centrally manages the allocation and coordination of the number of containers in use. I became a member of the BCP Task Force Team as NITCO's contact person and worked with Nissan Motor Corporation on the coordination work.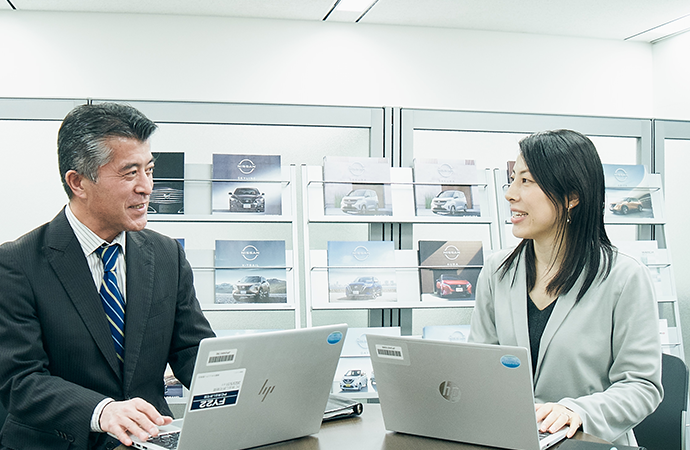 Firstly, NITCO needed to clarify the number of containers to be operated and the timing of shipments up to three months in advance. To this end, we conducted daily interviews with a total of about 40 NITCO personnel at four overseas locations in South Korea, Thailand, China, and the United States, as well as eight groups in Japan. We made a routine in which the shipping information obtained from these interviews was consolidated, updated once a week, and shared with Nissan Motor Corporation. Based on this information, the Nissan SCM Division began to allocate and adjust the optimal container space for the Nissan Group.
When adjustments were necessary as a result of the allocation, we communicated this information to our internal personnel and coordinated with Nissan Motor Corporation and the shipping companies again to meet their requests. Through this kind of deepening internal and external cooperation, we managed to secure container space from the major shipping companies. This project continues to this day, but the disruption has gradually calmed down since last autumn, helped in part by the changes in the COVID-19 situation.
Minimizing costs of losses by leading detailed communication with the Nissan Group
Tanaka : In this project, it was essential to provide highly accurate information to Nissan Motor Corporation and respond promptly from their perspective. However, when the project started, it was the first instance of collaboration between Nissan Motor Corporation's SCM Division and NITCO. Therefore, we had to build a consolidation scheme from scratch, and it took several months before the flow of providing Nissan Motor Corporation with information collected from internal personnel was firmly established. In addition, detailed coordination was also necessary because the timing of the finalization of shipment plans within the Nissan Group varied from company to company within the Group.
Each personnel member working on trade operations responded flexibly to the daily changing situation. As we mentioned earlier, shipping plans are submitted weekly up to three months in advance, but if vehicle production plans change due to a shortage of semiconductor components or other reasons, the timing of container space needs also changes. In order to keep track of the latest conditions that were always changing, the cooperation of each personnel member within the company was essential.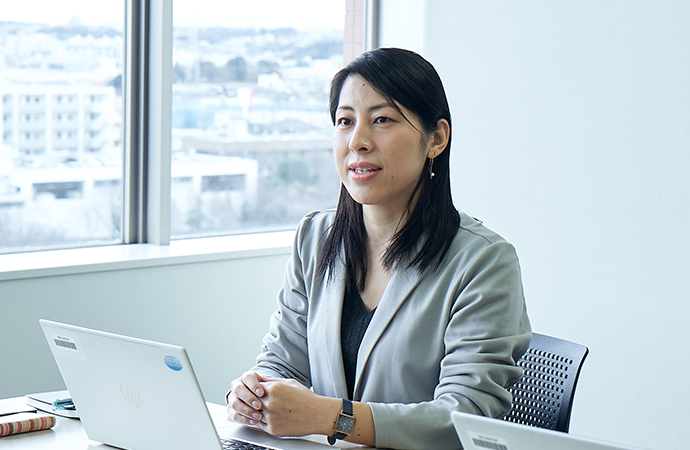 Because this was our first such initiative, there were times when those in charge voiced their confusion, but we made sure to maintain close communication with them to deepen their understanding of this project and to gain their cooperation. As a result, we were able to share information with Nissan Motor Corporation in a timely manner and have it lead to action to make adjustments.
These efforts paid off, and I was very happy when we received a letter of appreciation from the director of Nissan's SCM Division saying that we had contributed to minimizing costs from losses . The foundation of NITCO's business is to deliver goods in the most appropriate manner, at the best price, and in a timely manner, and to adhere to delivery deadlines. While we may have to use costly airplanes during emergencies to keep the production lines running, one of our key missions is to optimize logistics and reduce air transport to the minimum.
Hedging risk as an actor behind the scenes in internal logistics infrastructure
Tanaka : This project was the first such challenge we have undertaken, and there were quite a few difficulties. But as a result, I feel that there were various benefits for NITCO. For example, when the route via the West Coast of North America is likely to be delayed due to a strike or other reasons, we can now use the route via the East Coast or the Gulf of Mexico. NITCO alone is limited in the number of routes and quantities it can contract with shipping companies. However, by conducting management and operations for the Nissan Group as a whole, we can increase route options, utilize surplus quotas on both sides, and minimize costs from losses.
Yoshida : Through this project, we have gained deeper knowledge of the different business characteristics and operations of each company within the Group, such as components, equipment, and materials. We have also strengthened external relationships with Nissan Group companies, and I believe that we now have an environment in which we can smoothly make adjustments according to the situations in the future.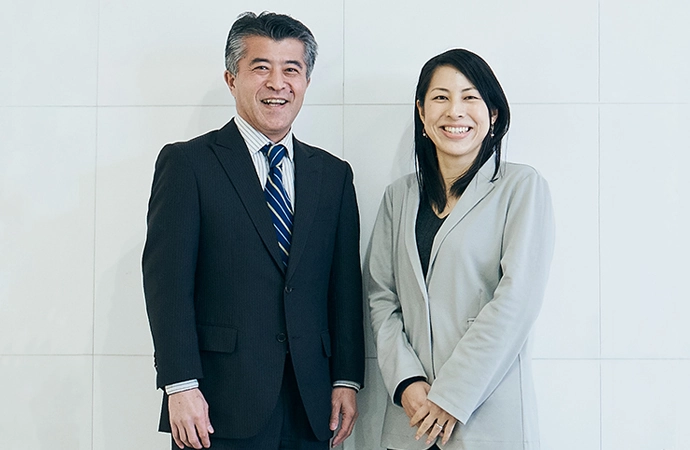 Although the COVID-19 situation is improving, there are many other factors that increase the risk of disruptions in international logistics, such as the situation in Ukraine and strikes in various regions. There will be circumstances in the future when tough adjustments and responses will be required for changes in the environment surrounding the supply chain. We want to be the go-to team that can take pride in being the "actor behind the scenes" that supports the supply chain management foundation which is NITCO's responsibility.
We will continue to plan and provide high-quality logistics solutions that anticipate needs and meet the demands of both internal and external customers, while further strengthening cooperation with the Nissan SCM Division, logistics procurement, and other related parties.
Related Business Divisions
Utilizing Nissan Trading's global trading and logistics know-how, we supply a wide range of products, from prototype to mass production to repair parts, to customers in the Nissan Group and beyond.