Contributing to the promotion of a recycling-oriented society by establishing an efficient EV motor recycling scheme
Kazuhiro Tsunetsugu
Tochigi Sales Office, Global Material Division
#Environment

#CarbonNeutral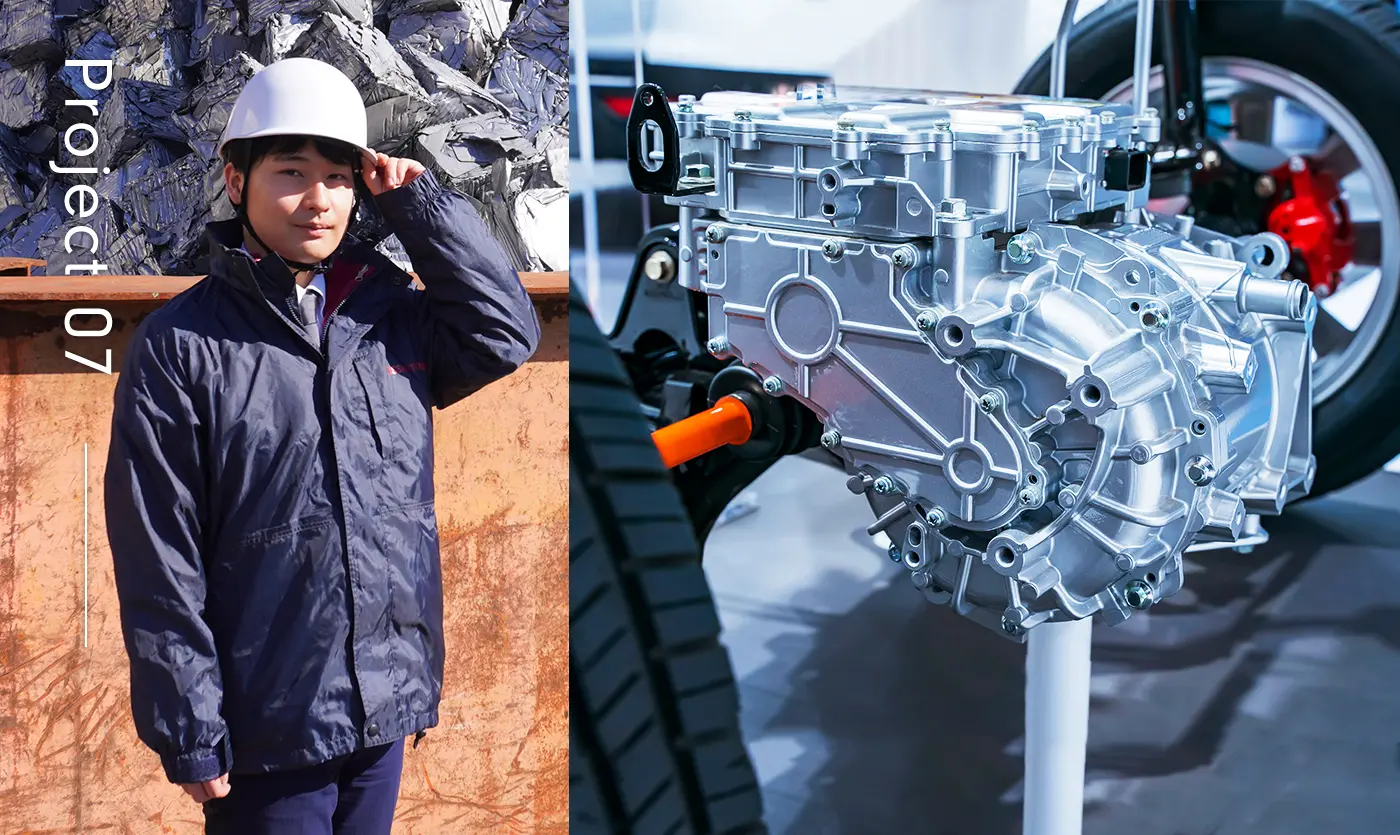 Bringing EV recycling know-how to Nissan's Tochigi Plant
Since 2007, Nissan Motor Corporation has been promoting an initiative to recycle steel scrap and other materials generated in the automobile manufacturing process as resources to be used again in automobile manufacturing or sold to external parties. Nissan Trading (NITCO) centrally manages this recycling scheme, and I am currently carrying out this task as a member of the Materials Business Division.
Nissan is ahead of its time in the development and production of EVs, and has top-class technology and production capabilities in this field in the automobile industry. Today, as environmental awareness rises, the shift from gasoline-powered vehicles to EVs is accelerating and production volume is soaring. Amidst this, the promotion of recycling, as NITCO is undertaking, will be a major issue going forward. However, if we look at the automobile industry as a whole, it is difficult to say that schemes and technologies for EV recycling have been fully established.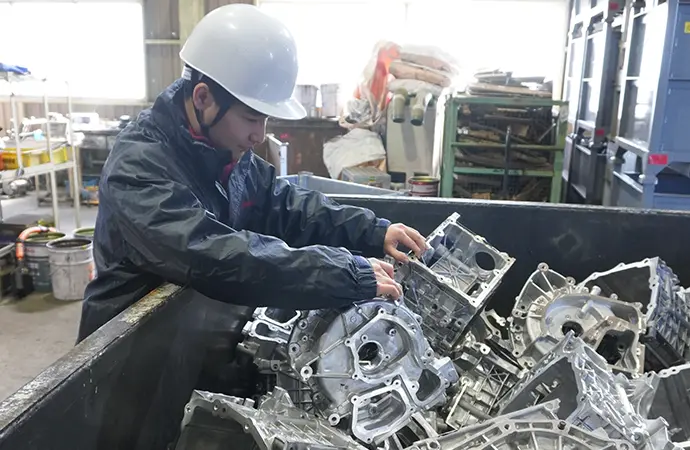 Under these circumstances, the Yokohama Plant is already working to utilize copper, iron, aluminum, and other materials generated in the EV motor manufacturing process as recycled resources, and NITCO has been responsible for the establishment and operation of this scheme.
In 2021, it was decided that the "ARIYA" EV would be produced at the Tochigi Plant, and a new production line was put in place. I gathered information from an early stage so that NITCO could also be involved in the EV motor recycling business at the Tochigi Plant. Through a series of studies on recycling methods, selection of contractors, and verification of operations, I developed and proposed a scheme that would maximize the benefits for the Nissan Group. As a result, it was decided that NITCO would work on operation of the Tochigi Plant in the same way as the Yokohama Plant.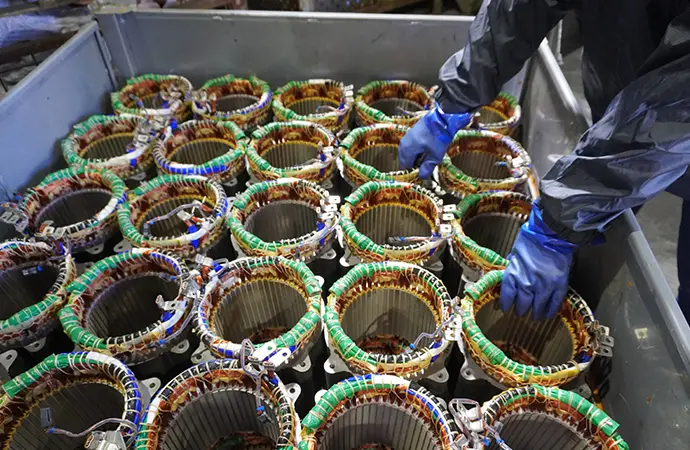 Repeated verification of efficient disassembly and sorting methods on the basis of sample products
In order to create a recycling scheme, it is first necessary to know the conditions that will allow discharge of scrap motor materials that can be used for recycling. In terms of motors, the disassembly method differs depending on whether the motor is magnetic or not, whether it is a semi-finished product (a product that is in a state comparable to that of a sold product, but which the company regards as "in-process") or a finished product, as well as the difference in materials. Fortunately, I was able to work with the person in charge at the Tochigi Plant early on, so I was able to obtain an "ARIYA" sample at an early stage and learn about its materials and how they are sorted out.
I then considered how best to disassemble those motors. I visited the disassembly site at the Yokohama Plant and received a variety of advice on the overall recycling of motors. Nevertheless, since the motors produced at the Tochigi Plant are different from those produced in Yokohama, I had to rethink the disassembly and sorting methods.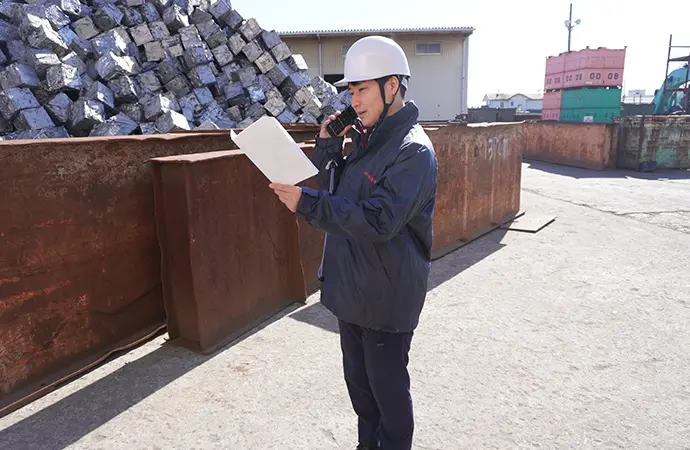 Currently, there are no contractors in Japan that specialize in disassembling motors. Moreover, disassembling motors that are new products is uncharted territory for any contractor, so NITCO had to go through a trial-and-error process to fumble for a solution. Therefore, we consulted with scrap-related companies in the vicinity of the Tochigi Plant, concluded a nondisclosure agreement, and asked them to disassemble a sample. Then we considered how to utilize each of the materials.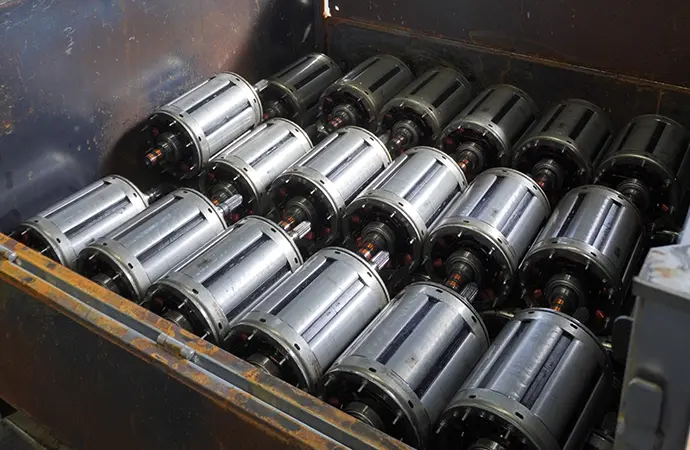 Improving the economic aspects of the recycling business through cost reduction
It is a prerequisite that recycling is an initiative for the environment. However, as a business, it is impossible to continue unless recycling is profitable. Therefore, it was necessary to consider how to reduce costs and make recycling viable for business. Nissan needed to start building a recycling scheme with an awareness of how to maximize the benefits of the project by increasing the amount of materials taken in and the profit from their sale, while not undertaking a heavy burden in terms of sorting them.
At the same time, it was also necessary to create a scheme that would be economically beneficial with little burden to the disassembly companies that would cooperate in this initiative. We worked together to consider how we could disassemble motors with as few man-hours as possible, which I also provided ideas for.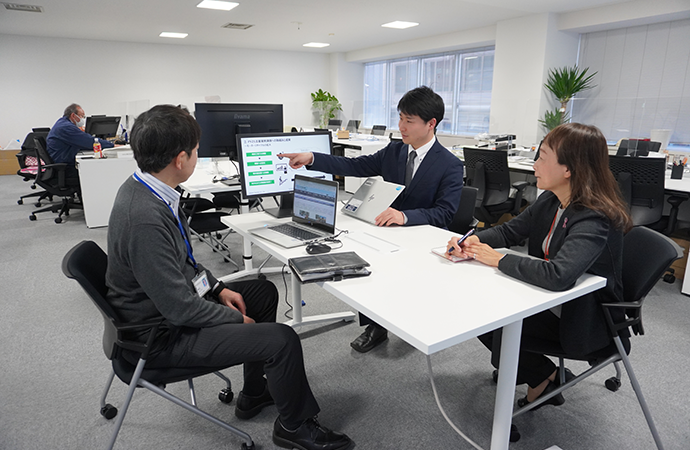 I think the copper extraction work in particular is a representative example of our struggle to reduce costs. The magnet part that makes the motor rotate has copper wires firmly secured with an adhesive called varnish, and cannot be easily disassembled. In the process of examining various ways to efficiently remove the copper, we had discussions with disassembly companies and came to the conclusion that there was a method of "melting the varnish by preheating in an industrial furnace." We believed that this method would significantly reduce energy costs compared to melting varnish from scratch, and would be more economical.
Following our process of trial and error, the copper, iron, and aluminum extracted from motors are transformed to become automobile parts. In this way, we have been thinking about how to make effective use of precious resources with as little waste as possible.
Achieving circular commerce with a trading company network and recycling business know-how
Through the cooperation of many people, including Nissan, logistics companies, disassembly companies, and senior members of NITCO, the recycling scheme at the Tochigi Plant was successfully put into operation. The person in charge of the Tochigi Plant was pleased, and said, "Thanks to the actions at an early stage, the recycling processing is running smoothly without any impact on production. "
NITCO is a professional in this field, as we are responsible for the global import and export of parts and materials used in the manufacturing of Nissan vehicles. NITCO also has strong business connections with various metal material suppliers. We will continue to leverage these strengths to find ways to effectively utilize resources even more efficiently. We also plan to make efforts to increase our capacity to accommodate the expected increase in production of EVs, including ARIYA.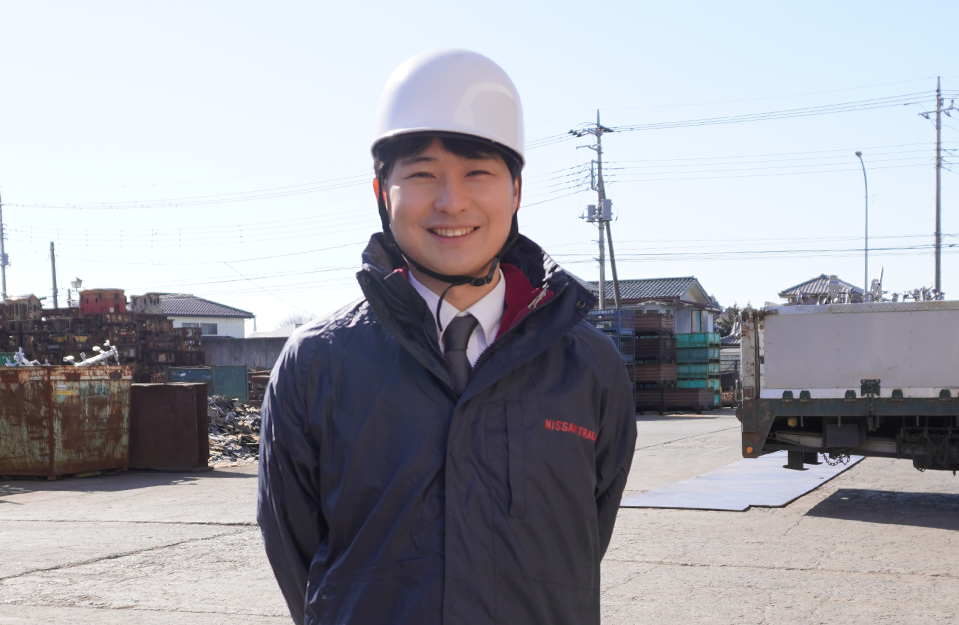 As a trading company, one of NITCO's missions is to create an efficient and cost-saving recycling scheme and make it viable for business by making full use of its network and negotiating power. In the future, I would be happy to play a part in achieving circular commerce involving not just recycling within the Nissan Group, but Japan as a whole producing steel from domestic scrap without having to rely on imports.
Related Business Divisions
For Nissan Motor and for the domestic and overseas plants and parts manufacturers of Alliance Group members Mitsubishi Motors and Renault, Nissan Trading contributes to improving the competitiveness of the Alliance Group and to achieving carbon neutrality through information management, environment-related businesses like material recycling and electricity sales, and through supply of automotive materials like steel products, raw materials, non-ferrous metals, and chemicals.